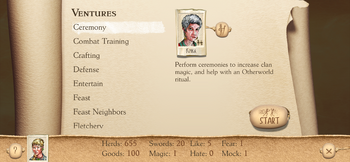 Ventures are a massed activity that the entire clan gets together to perform. At the start of the game, you can only do one venture per year, but after finishing the clan hall, you can perform two a year. You may not perform the same venture twice in one year, and ventures might not succeed, or might only partially succeed. As in most other things in Six Ages, you must select one of your nobles to lead the Venture, and part of your success will depend upon the skills of the noble involved, as well as what, if anything, you spent magic on during Sacred Time.
If you struggle with ventures, consider sacrificing for Nyalda's Cooperation blessing, or putting magic into Harmony at Sacred Time.
Please note that at the time of this writing, (August 20th, 2018), some of the effects, most especially for Skill and Magic associated, are still speculative.
| Venture Name | Effect | Skill Associated | Magic Associated | Special Notes |
| --- | --- | --- | --- | --- |
| Ceremony | Adds to magic. Makes rituals easier | Magic | Ritual | |
| Clear Pastures | Removes the Limited Pastures Stress at the start of the game; makes herding easier | Food | Pastures | One of the ventures necessary to complete the Clan Hall. Only do once. Cannot fail, but poor performance might lead to some people becoming wounded. |
| Combat Training | Makes your warriors more effective in battle | Combat | War | |
| Clan Hall Decorations | Necessary to complete clan hall | | Crafting | Can fail, seems to fail more often than other ventures. Necessary to complete Clan Hall. Only performed once. Costs a default of 50 goods, although good performance can lessen this. |
| Clan Hall Feast | Necessary to complete clan hall. | | Harmony | Can fail to actualize if food stocks are low. Necessary to complete Clan Hall. Only performed once. |
| Clan Hall Sacrifice | Necessary to complete clan hall. Can improve mood. | | Ritual | Necessary to complete Clan Hall. Only performed once. |
| Crafting | Creates Goods | Bargaining | Crafting | Usually makes like 20-25 goods |
| Craft (special) Item | Creates more goods than crafting | Bargaining | Crafting | This is actually several different ventures, such as "Craft Ebony Items" or "Craft Ivory Items". In every case, it requires you to have discovered one of the craftable items on your clan lands through a previous exploration. Repeated crafting of the item will exhaust your stocks of whatever it is, at which point you can no longer perform this venture. |
| Convert Pastures to Fields | Removes Fields Stress from continual use, improves crops. | Food | Fields | Cannot fail, but poor performance might lead to a morale stress. Is usually necessary every 5-6 years. |
| Defense | Helps protect against raids | Combat | War | |
| Denounce the Cenala Heresy | Helps dispel belief in the Cenala story | Leadership | Diplomacy | The reverse of Spread the Cenala Revelation. |
| Entertain | Improves clan morale | Leadership | Harmony | |
| Expand Fields | Removes Limited Fields Stress at the start of the game, and improves your crops. | Food | Fields | One of the ventures necessary to build the Clan Hall. Only performed once. Cannot fail, but poor performance will create a morale stress. |
| Feast | Improves clan morale | Leadership | Harmony | Can fail if food is too low. If you have Nyalda's Hospitality blessing you can perform this multiple times in one year, and even do it if you have already done the maximum number of ventures.  |
| Feast Neighbors | Improves clan morale and relationship with neighbors | Leadership | Harmony, Diplomacy | Requires at least four weeks worth of food and Nyalda's Hospitality blessing active at that moment. |
| Finish Houses | Removes No Houses Stress, which can cause greater levels of disease | Leadership | Harmony | Only done once a game. Requires 25 goods. |
| Fletchery | Produces arrows, making it less likely for you to run out in battle | Leadership | War | |
| Foraging | Gathers food from wildlands. | Food | Wilds | Less effective in Dark Season. Unclear if this creates food on its own or makes foraging expeditions in that year better. |
| Guard the Herds | Makes herd raids less likely to succeed against you, guards against certain negative events, gives herds and sometimes gives horses | Food | Pastures | |
| Herding | Increases herds and to a lesser extent, horses | Food | Pastures | |
| Hunting | Hunt for food in wildlands | Food | Wilds | Less effective in Dark Season. Unclear if this creates food on its own or makes foraging expeditions in that year better. Also unclear how this is different from Foraging. |
| Recruit Clan Members | Adds to your population | Leadership | Diplomacy | |
| Restore Pastures | Combats Overgrazing stress | Food | Pastures | Often will take several years to work even under best conditions, and in the meantime, your herds will die in droves. Use the Busenari Light Finder ritual instead in all but the most dire situations. Tests Farming skill.(Possibly Food + Lore test) |
| Scour for Bandits | Removes Bandit Threat Stress | Combat | War | |
| Search for Spirit Rocks | "Pleases the Spirits", can remove Spirit indifference, makes it easier to catch spirits or bargain them into doing what you want | Magic | Ritual | |
| Spread the Cenala Revelation | Converts unbelieving clans to Cenala worship. | Magic | Diplomacy | Seems to very highly correlate with whether or not you successfully completed rituals recently. Also somewhat seems to depend on the number of Cenala clans already around, it's easiest to convert a few holdouts. |
| Trade | Trades for goods | Bargaining | Diplomacy | Often gets about 20 goods. |
| Trap for furs | Traps for valuable furs and increases goods. | Food | Wilds | |
| Worship | Increases the number of supportable temples | Leadership | Ritual | Can work for multiple years, or only one, or fail and cost you magic. |